Turn your leads into high-paying customers, consistently and with ease.
Video Business Mastery Next Level is a proven program that helps you stand out from other video businesses, secure clients who understand your value, and charge the higher rates that you deserve.
Sign up for the waitlist to be the FIRST person I notify when I open enrolment.
Reject the frustrating status quo, like these video business owners: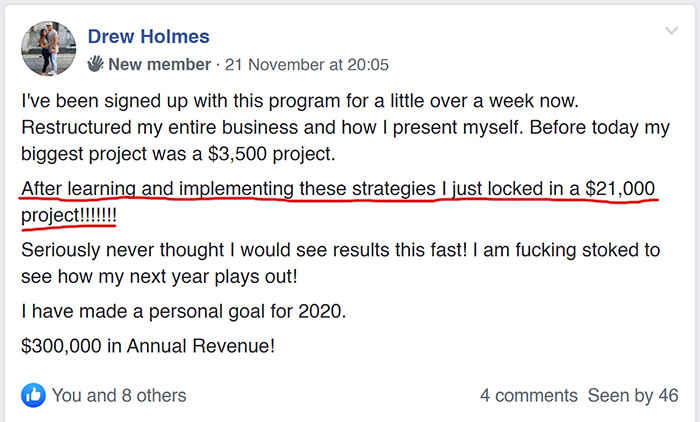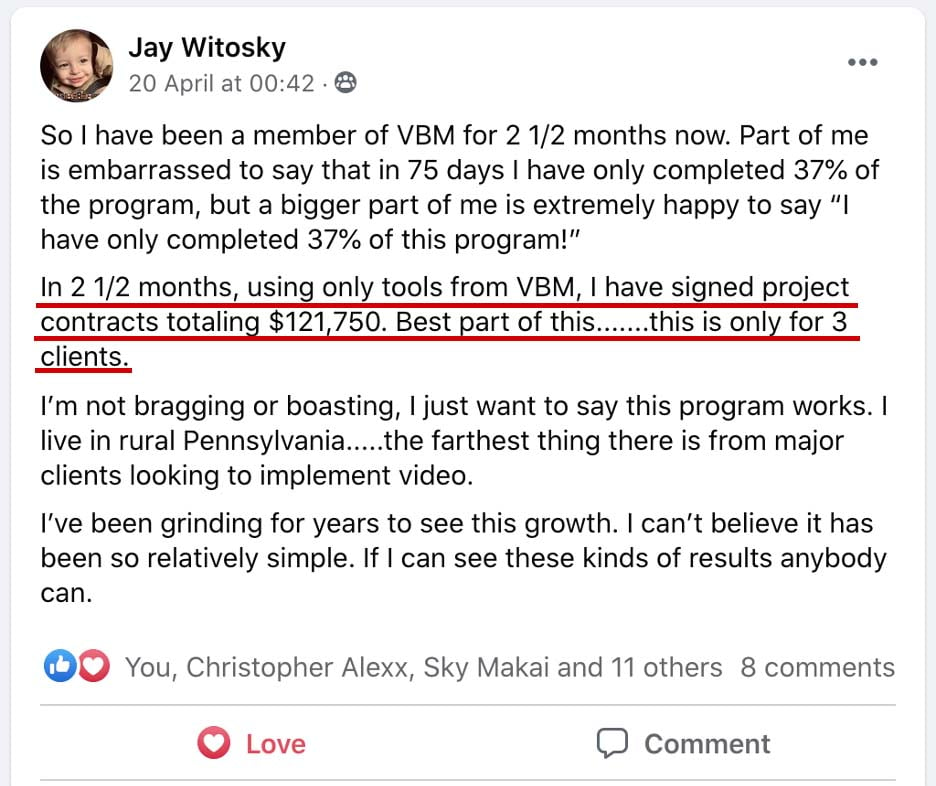 "This program is worth its weight in gold. I'm very glad I spent my money on this, as opposed to a new lens or some film equipment. This knowledge is truly vital for a successful business."
-Eli Hiller
"I am thankful for your mentorship, Jackson. The course has definitely made the process much clearer and more actionable. I am now using the knowledge I'm gaining to create a healthy business. I have made progress in bringing onboard connections who I can now offload shooting and editing to, people with intimate knowledge on how to apply for grants and pitch for funding, and distribution. I have more time to focus on becoming a better director and business owner!"
-Yoshith Weerakoone
"Having a good product is, of course, necessary, but without being personable and having good communication skills, it's not enough. Your course is fantastic, and I couldn't recommend it more to anybody at any level. You might be a fantastic camera operator and editor, but Jackson teaches so much about the business side of video, which is absolutely necessary to thrive in the industry. Thank you for all your support! Worth every penny."
-Scott Dixon
"I am feeling more confident than ever, and I started nearly 9 years ago. The right clients are coming my way. I can stop trying to compete with competitors who are willing to charge less than I am, and I'm able to speak more confidently about my value. This program was EXACTLY what I needed. I'm so thankful!"
-Kelby Joseph
"I am already experienced, but I thought, 'Why not?' VBM is the best thing I have done. I literally learned more than 3 years in film school. 😅😅 So much better than the other crap out there."
-Elliot Baker
Charged

7X More

In Just a Few Weeks
"I'm a different business owner

2 months

down the line"
Scott went from charging a few hundred pounds per video to multiple thousands within weeks of joining. In his most recent proposal, following the steps in the course, he was able to charge 7 times more than his 'best case scenario' budget.
Jay is an established video business owner and within a few weeks of joining was able to turn a $10,000 project into a $46,000 project, paying for his membership SIXTY times over.
Kelby went from undercharging and overworking to feeling confident talking about his value and increasing his prices. Even as an MBA graduate he learnt new skills and strategies that he was able to implement in his business.
Join the Video Business Mastery waitlist, so you'll be the first to know when enrolment opens.
As a waitlist member, you'll have first access to comprehensive curriculum that will make complex topics simple, like:
Business marketing and advanced niching strategies.

Networking and relationship building to grow your business.

Advanced lead generation tactics to streamline and automate your processes.

Pricing yourself for high revenue, so you get paid what your expertise deserves.

Closing sales easily through the proven VBM Results Method.
Inside the program, you'll have a chance to roleplay your new skills with me in a safe environment, before you test drive them with real leads. You'll get templates and calculators to simplify your business transformation. And you'll get bonus content to take your business success to the next level.
Signing up for the waitlist doesn't obligate you to enrol, so click the button 👇 to see what all the fuss is about.
© 2022 Video Business Mastery